Here at The Jonathan Pitney House, we have a fabulous cookbook titled "Breakfast, Brunch, And Much More!" This book contains serious comfort food from New Jersey's Best Bed and Breakfasts. So, it's only fitting that we tried out one of these delicious recipes for our guests.
And, we must admit.. we've tried it ourselves, and we can't get enough of it!
This recipe was contributed to the cookbook by the Glenwood Mill Bed and Breakfast.
Herb and Baked Eggs
Ingredients
4 thin slices of ham
6 large eggs
¼ cup of plain yogurt
1 teaspoon of prepared mustard
¾ cups of shredded cheddar cheese
2 teaspoons of chopped chives
2 teaspoons of chopped parsley
Chives or parsley sprigs for garnish
Preparation
Preheat the oven to 375F.
Grease 4-6oz ramekins and arrange them on a baking sheet.
Line each ramekin with a ham slice
In a medium bowl, beat together the eggs, yogurt, and mustard. Stir in the chest, then stir the chives and parsley. Divide the mixture among the ramekins.
Bake for 25-30 mins, or until golden and set.
*OPTIONAL* remove from ramekins and place on serving plate.
Garnish with herbs.
Try it out, and let us know what you think!
Garden Party Reception
Join The Absecon Arts Alliance for a Garden Party Reception on Thursday, July 21st at the Jonathan Pitney House. This event will be held from 6:00-8:30 pm and lets you view 25 different beautifully and originally decorated flower pots as local artists paint them right before your eyes. All 25 pots will be on display as 25 artists compete for the title of Best Flower Pot in Town!
Visitors and spectators can also participate as there is a People's Choice Award, so come out and vote (rain or shine) for your favorite pot! The entry fee is a $5.00 donation, and light fare and drink tickets will also be available
If you have additional questions please contact Bill Parker at bparker@parkerandpartners.com or Patty Town at pattyanddavid@comcast.net
As Dr. Pitney first envisioned, Atlantic City  is an energetic and fun filled city with a lot to do.  Aside from the casinos and boardwalk, Atlantic City has a lot of hidden gems that many people may not know about. Below is a list of activities and day trips to do while your visiting the city!
Stockton's Arts Garage– *Free*- The Noyes Arts Garage Stockton University is the cornerstone of the new Arts District in Atlantic City with a mission to promote education, provide resources for emerging artists, and enrich the community.  The Arts Garage houses 15 artist studios, galleries, shops, a café, a flexible classroom studio, and hosts special events throughout the year. As you walk through the breath taking studio you will find individual artists working in their studio spaces, most of which encourage you to ask questions and become involved.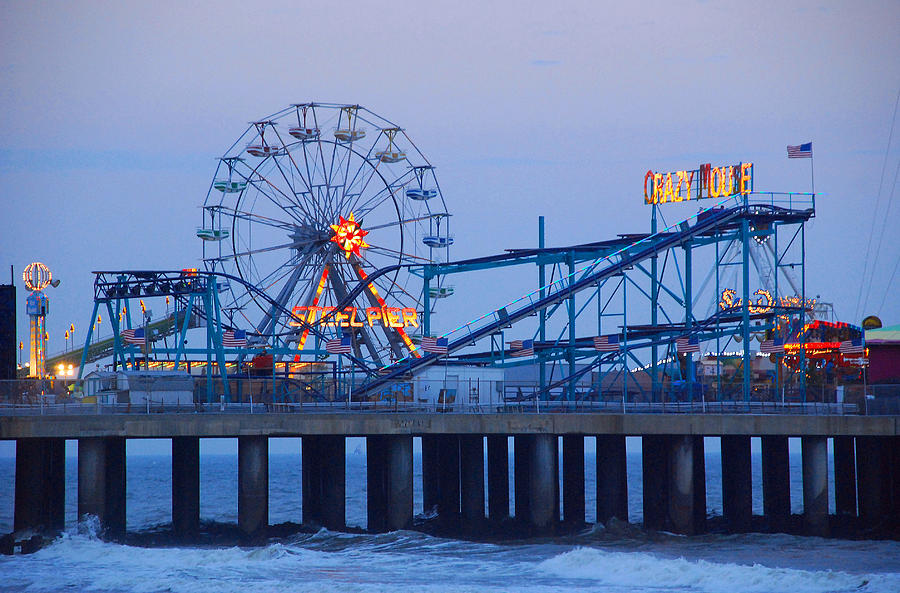 Steel Pier- The iconic Steel Pier is an amusement park that extends over the commanding Atlantic Ocean, and features more than 25 extreme rides, an amusement arcade filled with fun and challenging games. The Steel pier has a long iconic history, first opening in 1898 and being home to the famous diving horse.  The Beatles, Frank Sinatra, and many more famous names have even played at the Steel pier! It has been rebuilt many times, and is now a fun amusement ride park.
Ripleys Believe It Or Not!- If you don't already know, Ripley's Believe It or Not! Odditorium is a collection of strange and bizarre exhibits from around the
world. They are open every day of the week with ticket prices starting at $16.99. Some things you can expect to find inside is the  spider made from scissors and knives, a roulette table made of over 14,000 jellybeans, and the world's smallest production.
Not sure where to eat during your stay? Luckily he Jonathan Pitney House is located right in the heart of Absecon which means it is surrounded by many hometown restaurants. It is hard to pick just one of our favorites, so below is a list of places to eat that are about 5-10 minutes from the Pitney House. 
Black Cat Bar & Grill-Just 5 minutes straight down the road from the Jonathan Pitney House, the Black Cat is a hometown Bar & Grill with a relaxed atmosphere, featuring diner standards & Italian eats in old-school, white-tablecloth digs.
High Point Pub–  Right across the street from the Black Cat you will find the High Point Pub, an absecon favorite. This pub has been running for over 50 years and has grown into a relaxed bar with foods ranging from burgers to their weekly special sandwiches.
Mt. Fuji– If you're having a sushi or hibachi craving… this is the place to be. Mt Fuji  restaurant has an extensive Japanese food menu, with the option to sit in a booth or zashiki, or if you have a large party a Hibachi table.
Athenian Garden– Athenian Garden is a family-owned and operated Greek restaurant serving traditional home-style Greek recipes and is about 10 minutes down the road from the Pitney House.
Gourmet Italian Cuisine-  If you want a little of everything, Gourmet is your place to eat. They serve it all including seafood,burgers, pizza, and fresh salads at a reasonable price.  Inside you will find the over sized fireplace and lounge area a good addition to giving it the perfect relaxing atmosphere.
Romanellis Garden Cafe– Romanellis takes breakfast to a whole new level…from their cinnamon toast crunch french toast to crabby eggs benedict it is a must try if you're in the area. Romanellis is a ten minute drive from the Jonathan Pitney House and a local favorite restaurant.