Welcome! Looking for ways to spend a day out with the family?

There are tons of fun stops right in Atlantic County that'll keep the whole family having fun all day. 
Historic Smithville 
The first stop on our list is Historic Smithville! You can't beat The Train, Carousel and Paddle Boats! Ice cream, pizza, and bakeries. The antique arcades, remote control cars and boats and old fashion shooting gallery.
• Website
• Phone # 609-748-8999
• Address: 615 E. Moss Mill Road, Galloway, NJ
Storybook Land
You pay-one-price admission includes unlimited rides with access to all storybook attractions! For over 50 years, since its founding in 1955, Storybook Land has been keeping the spirit of childhood alive in an entertaining and educational atmosphere. They have over 14 amusements and different story book houses to explore. • Price $22.95 per person.
• Web site
• Phone # 609-641-7847
• Address: 6415 Black Horse Pike
Route 40 , Egg Harbor NJ 08234
Lucy the Elephant
Bring the family to climb the world's largest elephant! Lucy is National Historic Landmark! This elephant stands six stories high
and from the howdah on her back you can see a spectacular 360 degree view of the surrounding shore area. There is a guided tour and picnic area.
• Price: Adults: $7.00 Children under 12: $4, Children under 2: Free
• Website:
• Phone # 609-823-6473
• Address: Lucy the Margate Elephant
9200 Atlantic Avenue
Margate, NJ 08402-2449
Beaches:
Free Beach:
• Atlantic City
Badge Beaches:
• Brigantine: Daily – $8.00 Weekly – $14.00
• Margate: $15 onetime fee
• Ventnor : $15 for the season
• Ocean City: $25
Atlantic City Aquarium
This children friendly aquarium offers an afternoon of fun. A 25,000-gallon main tank is home to a variety of Mid-Atlantic marine animals. There are Diamond Back Terrapins, the only turtle in North America to live in a water mixture of salt and fresh. A sea and touch area gives you and your child to reach in and feel the animals.
• Price: Adults $8.00, Children (4-12) $5.00, Children under 3 free.
• website
• Phone # 609–348-2880
• Address: Historic Gardner's Basin
800 N New Hamshire Ave
Atlantic City NJ
Atlantic City Cruises
Adventure out to sea with the capable seafarers at Atlantic City Cruises, where fun is just the beginning. AC has a variety of offerings to choose from, including the Morning Skyline cruise, the Dolphin Watching cruise, the Happy Hour cruise, the Sightseeing cruise, as well as a smorgasbord of special occasion cruises. The Dolphin Watching cruise in particular is quite the crowd pleaser, providing marine adventurers plenty of opportunities to capture the graceful water mammals on film.
• Prices: depends on cruise and length.
• website
• Phone 609-347-7600
• address: Historic Gardner's Basin
800 New Hampshire Ave
Atlantic City, NJ 08401
Absecon Light House
The Absecon Lighthouse is the tallest lighthouse in New Jersey and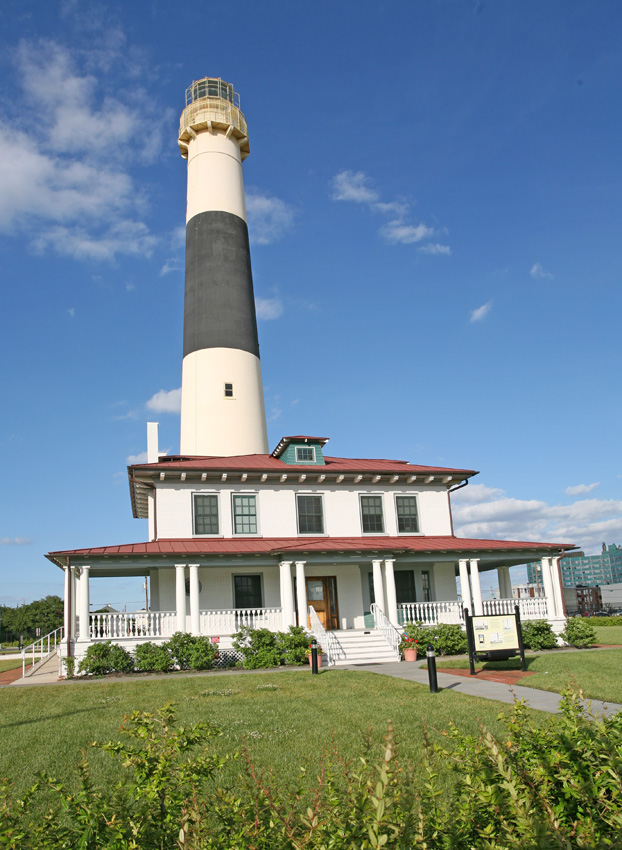 the third tallest in the United States. It towers 171 feet over the North end of Absecon . Built in 1857, it is the oldest lighthouse in the country. Visitors can explore the museum and gift shop or brave it's 228 knee-trembling steps to the top for some truly fabulous views of the Atlantic City skyline.
• Price$7 to climb $4 for children ages 4-12 to climb
• website
• Phone: 609-449-1360
• Address: 31 S. Rhode Island Ave. – Atlantic City, NJ 08401
Cast Away Cove & Gillian's Wonderland Pier in Ocean City
Piers, boardwalk stores, rides and water parks is what you find here. Ocean City is a great beach front community with food fun and shopping but the rides are the highlight for the kids. Rides, Rides, Rides ! Make sure to stop off for some Johnson's Carmel popcorn why your there!
• website
• Address: 6th St Ocean City , NJ 08226
• Phone # 609-399-7082
When you arrive, just park your car and grab the gear. Register for trips inside the store, then head out to the bus stop sign by the picnic tables. In a few minutes a bus will arrive loaded with equipment for your trip. Hop aboard as they take a short ride through the forest to your starting point. Have a safe journey. Mick's will be there at your destination to pick you up and return to Micks.
• Address:3107 Route 563 Chatsworth NJ 08019
• Phone number: 1-800-281-1380, 609-726-0717
• Hours of operation: Mon – Fri 9:00 am – 5:00pm, Weekends and Holiday's 8:30 to   5:00pm
Have any other ideas please post them, and above all…Have fun!