As Dr. Pitney first envisioned, Atlantic City  is an energetic and fun filled city with a lot to do.  Aside from the casinos and boardwalk, Atlantic City has a lot of hidden gems that many people may not know about. Below is a list of activities and day trips to do while your visiting the city!
Stockton's Arts Garage– *Free*- The Noyes Arts Garage Stockton University is the cornerstone of the new Arts District in Atlantic City with a mission to promote education, provide resources for emerging artists, and enrich the community.  The Arts Garage houses 15 artist studios, galleries, shops, a café, a flexible classroom studio, and hosts special events throughout the year. As you walk through the breath taking studio you will find individual artists working in their studio spaces, most of which encourage you to ask questions and become involved.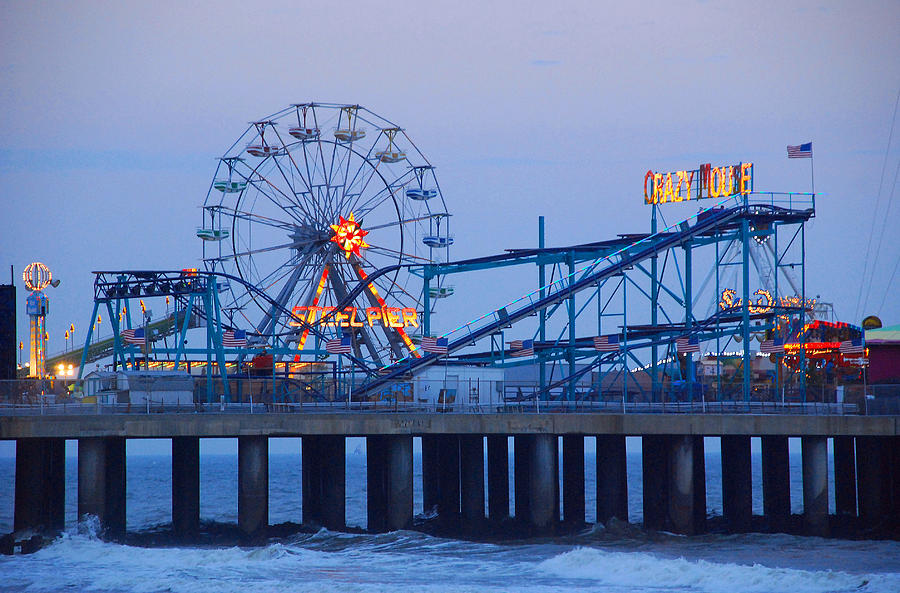 Steel Pier- The iconic Steel Pier is an amusement park that extends over the commanding Atlantic Ocean, and features more than 25 extreme rides, an amusement arcade filled with fun and challenging games. The Steel pier has a long iconic history, first opening in 1898 and being home to the famous diving horse.  The Beatles, Frank Sinatra, and many more famous names have even played at the Steel pier! It has been rebuilt many times, and is now a fun amusement ride park.
Ripleys Believe It Or Not!- If you don't already know, Ripley's Believe It or Not! Odditorium is a collection of strange and bizarre exhibits from around the
world. They are open every day of the week with ticket prices starting at $16.99. Some things you can expect to find inside is the  spider made from scissors and knives, a roulette table made of over 14,000 jellybeans, and the world's smallest production.
Marine Mammal Stranding Center– Located right outside of Atlantic City, Center has responded to over 4,500 stranding of whales, dolphins, seals and sea turtles that have washed ashore over the years. Walk through the museum, and occasionally according to the time they will have seals and other marine life there to visit!
Lucy The Elephant–This famous monument of Atlantic City has brought thousands of visitors yearly. Lucy is a 6 floor high elephant building located right outside of Atlantic City.She has a spiral staircase that allows visitors to climb up and see a 360 degree view of the area.
AC Aquarium- Open 7 days a week year around the AC aquarium is a three story aquarium with a day full of activities to do. It is located right on the historic Gardens Basins boardwalk overlooking the bay. Also along this boardwalk you will Back Bay Ale house, a perfect place to stop for lunch and sit outside overlooking the water. Back Bay also serves all of their drinks in mason jars…and who doesn't love mason jars!
The Walk– If you're looking for shopping, The Walk is the place to go! Right in the heart of Atlantic City The Walk has over 80 stores to shop in. Also within the walk there are plenty of restaurants, and a Starbucks if you need a lunch stop.
IMAX Theatre– If you're looking for a day in, or its a bit rainy outside, Tropicana Casino is home to its own IMAX theatre. Click the link to see movie showtimes and dates!
Atlantic City Cruises– From dolphin watching to a happy hour cruise, Atlantic City Cruises is a perfect summer time day out. Food, drinks, disposable cameras, and souvenirs are all supplied on board for you and the cruises are run on a first come first serve basis. The ship leaves from Gardeners Basin in Atlantic City.